the

Hybrid o' Rama is a little random hand draw took of from the gaba's book of dreams… A brief serie of short writes 'bout trips, trouble and smoked flying hilltops race…. most of them works' round maunder thumbless cosmic trip to the eclipseland and it's incredible discover !
the Astral Freak saga (trip to the Eclipseland)
the adventures of Maunder Thumbless

Comics from the cosmo in black and white.
A little skyline progressive surf trip of the astral dynamic duo. Realized in a very limited serie from 2007 described the very first part from legendary eclipseland approaching fly.(?)
First part
the 3D version
(2007 period)
Asimple shape of this type of astral freak , made with cinema 4D … KIKO shape and GABA design.
MARSTAR SPACESHIP & THE TRES AMIGOS
(2008 period)
One little goofy shapeship with a super singular shape and a cosmic raimbow tailfade is approaching the mystic planet of Eclipseland.
A trio of cosmonauts are happily sent for the landing control workout
(the original design is lost…)
[/one_half_last]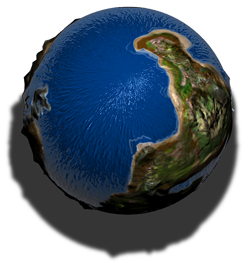 the MARSTAR
"…This stormy of unusual flyers sorrounds the migthy island of Eclipseland … Are supposed to live since the cosmic huge mutation and even before the human kind … They are really friendly and take care of the few strangers with this funny sport of joint together to assume multiform and floating superanimated creature of their universe…"

- Notes from the logbook of navigator Maunder thumbless first trip on eclipseland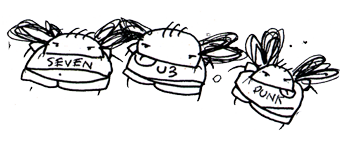 ECCIU' … Marstarbug Ollieback logging style
(Punk and Pogo Serie009)

…during the first expedition of the astral freaks Space Soup on Eclipseland , are drawn hundreds of draw-shoots of the crew to the discovery of pristine waves that dot the seemingly uninhabited… paradisiac coast.
In this series of 5 grafogrammi directly drawn and inked by our correspondent Gaba Nonibag, depicts some of secret spots surfing as well as the expedition leader Maunder, from goofy foot Arod Ikim master sauce, the wild billy party master and the mad Scientist processor drives…"

- M.T.
one tube rider for a story shoot
(2006 period)
""..on a very first trip across the Norrin Radd Galaxy Captain Maunder Thumbless with his crew was catch by a Cosmic multiparticel Tornado that force his Space Vehicle far of his trajectory. His Astral Freak Rocketboat had the need to recover on a out of maps small Planet. They understand after a while that this was the migthy Eclipseland; a legendary Waves Globe all completely surrounded simply by a multitude of incredible waves.Likely this first Galactic expedition get on board a specialist photo Painter that designed from the shore a four story shoots.."
TO BE CONTINUED